Newsletter
Epoch 397: Decreased Difficulty, 800k blocks, Mining Farm Expansion
Downward difficulty adjustment of 2.94% 352 blocks after crossing the 800k block mark.
If you haven't noticed, we are sending out this newsletter to update you on current network statistics and the latest mining news every 2,016 blocks.
🤔
Every 2,016 blocks the bitcoin network automatically changes the probability of producing valid work in order to maintain an average 10-minute block time.
The 800,000th block was mined on July 23rd, and we have just had the first difficulty adjustment at a block height above 800k #TicTokNextBlock.
Yesterday, the difficulty adjusted at block height 800,352. The new difficulty is 52.328 trillion which is a 2.94% decrease.
On another block height-related note, we are approximately 274 days away from block height 840,000 which is when the new supply of bitcoin will be cut in half. Currently, every block that gets mined has a subsidy of 6.25 bitcoin. In less than a year, new blocks will only produce 3.125 bitcoin. In other words, 900 bitcoin are currently added to the supply every day; whereas, starting at block height 840,000, only 450 bitcoin will be added each day.
Check out this tweet from @w_s_bitcoin to see the decreasing new supply of new bitcoin.
What's New With Rigly
Much of our efforts have been going toward getting hashrate back online and streamlining the user experience of Rigly's bidding platform.
On that note:
Auctions
Due to low demand, current auctions are earning winners free sats! Last week's auction went for 30% of the current market value. Test your luck and go check out the auctions listed below.
📫
If you have not signed up for Rigly, just go
here
after creating a pool account. Sign up with your email (use code ED0CD45E90) and link your pool account by providing your pool username and the pool's address.
Three 400TH/s Auctions Ending July 31st:
USA Mining in Epoch 398 | August
400 TH/s starting at block height 802,368 delivered for 2,016 blocks.
Est. start date: August 9, 2023
View the Auction
USA Mining in Epoch 399 | August
400 TH/s starting at block height 804,384 delivered for 2,016 blocks.
Est. start date: August 23, 2023
View the Auction
USA Mining in Epoch 400 | September
400 TH/s starting at block height 806,400 delivered for 2,016 blocks.
Est. start date: September 6, 2023
View the Auction
✏️
We want to hear from you! Do you like how all these auctions end on the same day? Or should they be posted differently? Let us know in our
Telegram channel
or email us at
hello@rigly.io
!
Hashprice: ~238 sats/TH/s/day
After the hashprice cliff from the previous upward adjustment of 6.45% on July 11th, we have now stabilized around 240 sats/TH/s/day. On July 23rd we saw a spike in transaction fees which is reflected in the chart below with a jump in hashprice to 246 sats/TH/s/day.
Network Hashrate: ~375 EH/s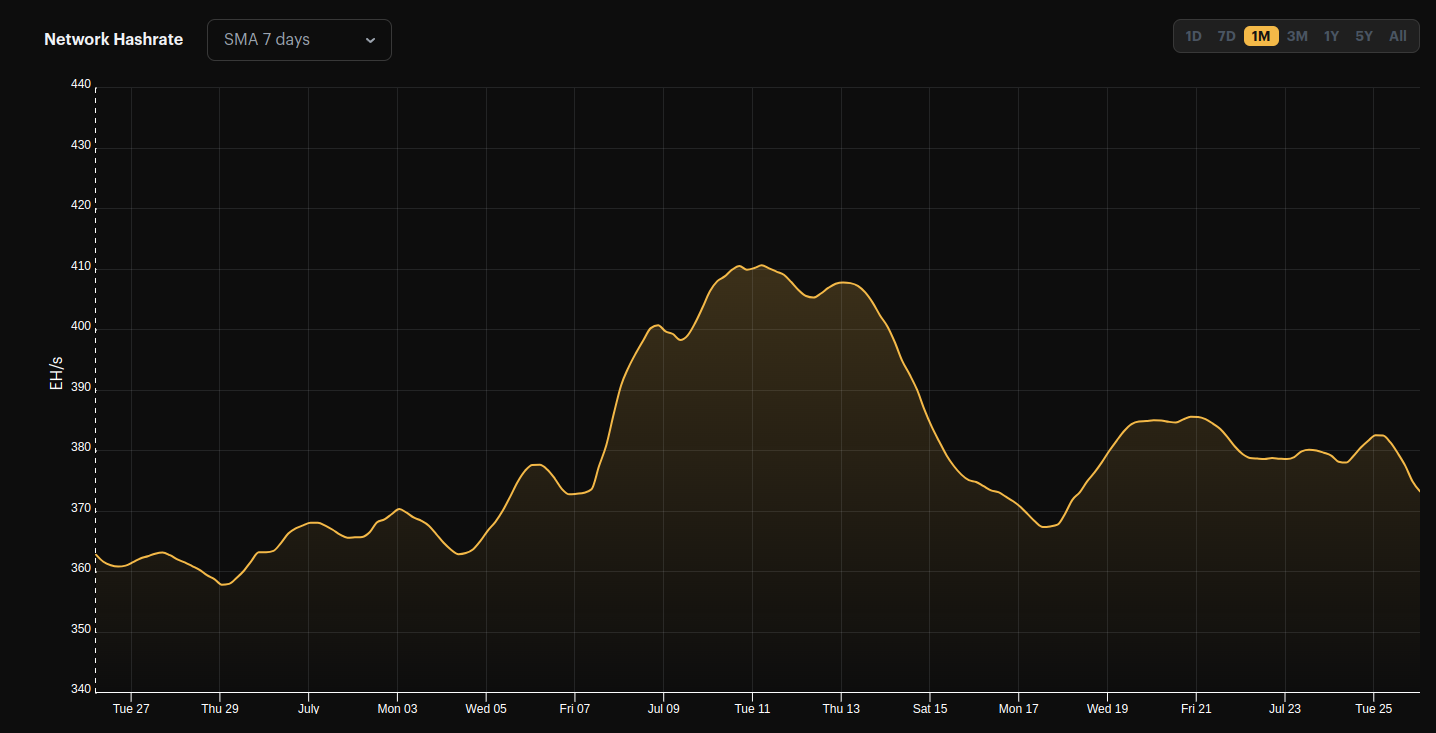 We saw an expected decline in network hashrate after the previous upward adjustment. Interestingly, leading up to this recent downward adjustment network hashrated fell slightly.
🤔
Network hashrate can not be quantified exactly. Calculations are done based on average block time and current difficulty which yields an estimate of the total hashrate on the network.
Difficulty Adjustment: -2.94%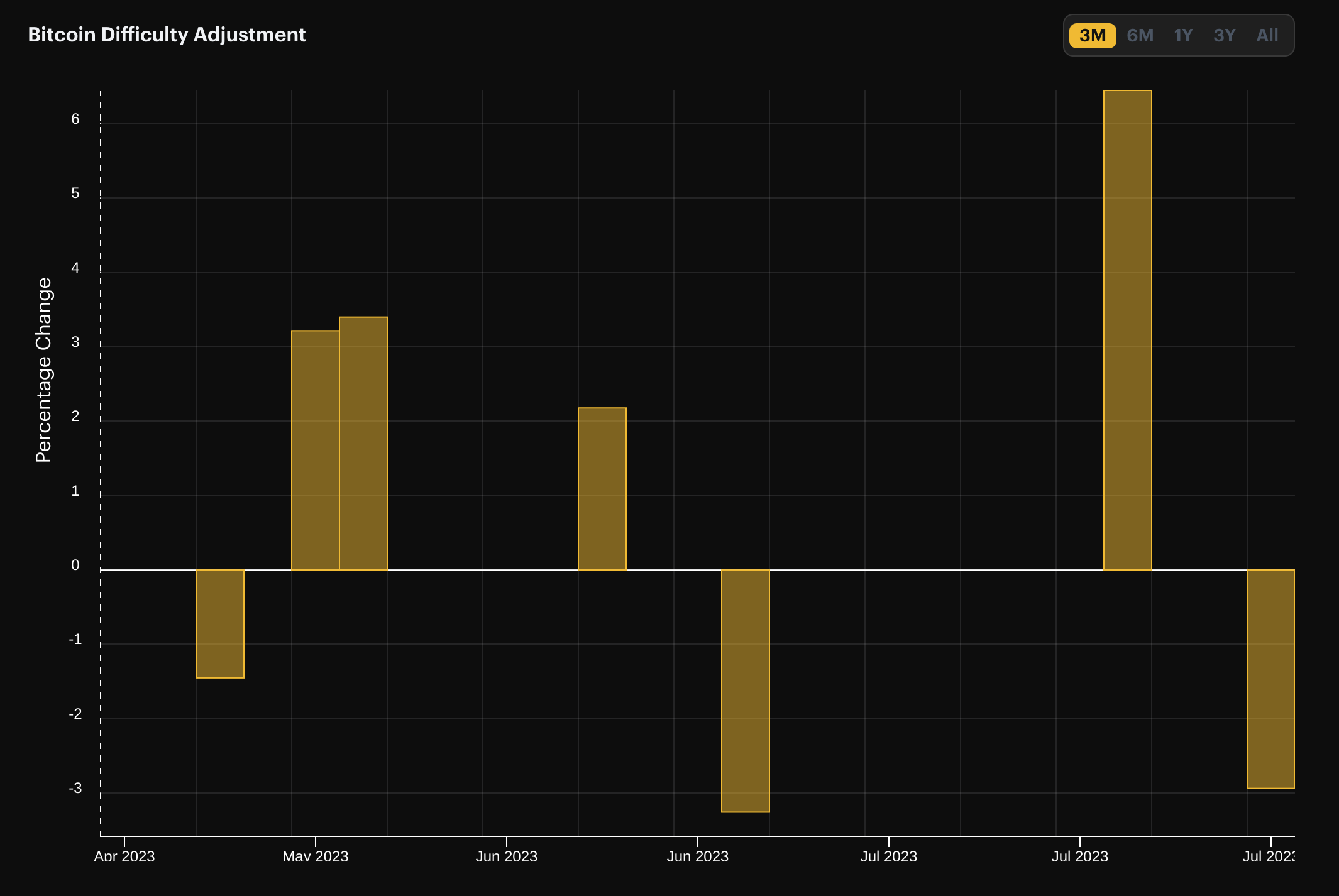 May 31 +3.40%
June 14 +2.18%
June 28 -3.26%
July 11 +6.45%
July 26 - 2.94%
Transaction Fees
Due to some activity from the ordinals community, we saw a spike in fees around July 23rd.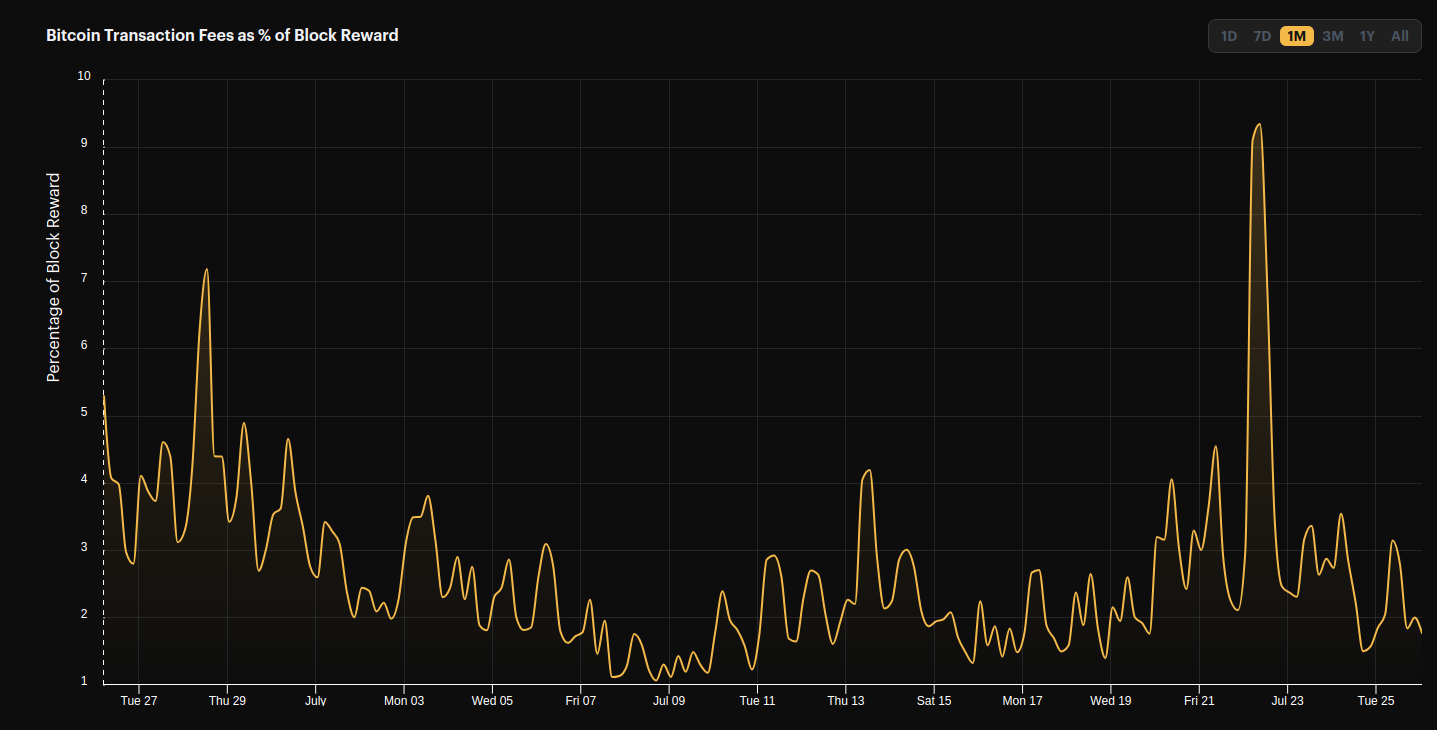 Fees this month ranged from 1% to 9% of the total block reward. In terms of hashprice, that's about 3 to 30 sats/TH/s/day from fees.
💸
Currently, the medium priority fee rate is at 9 sats/vByte (
mempool.space
)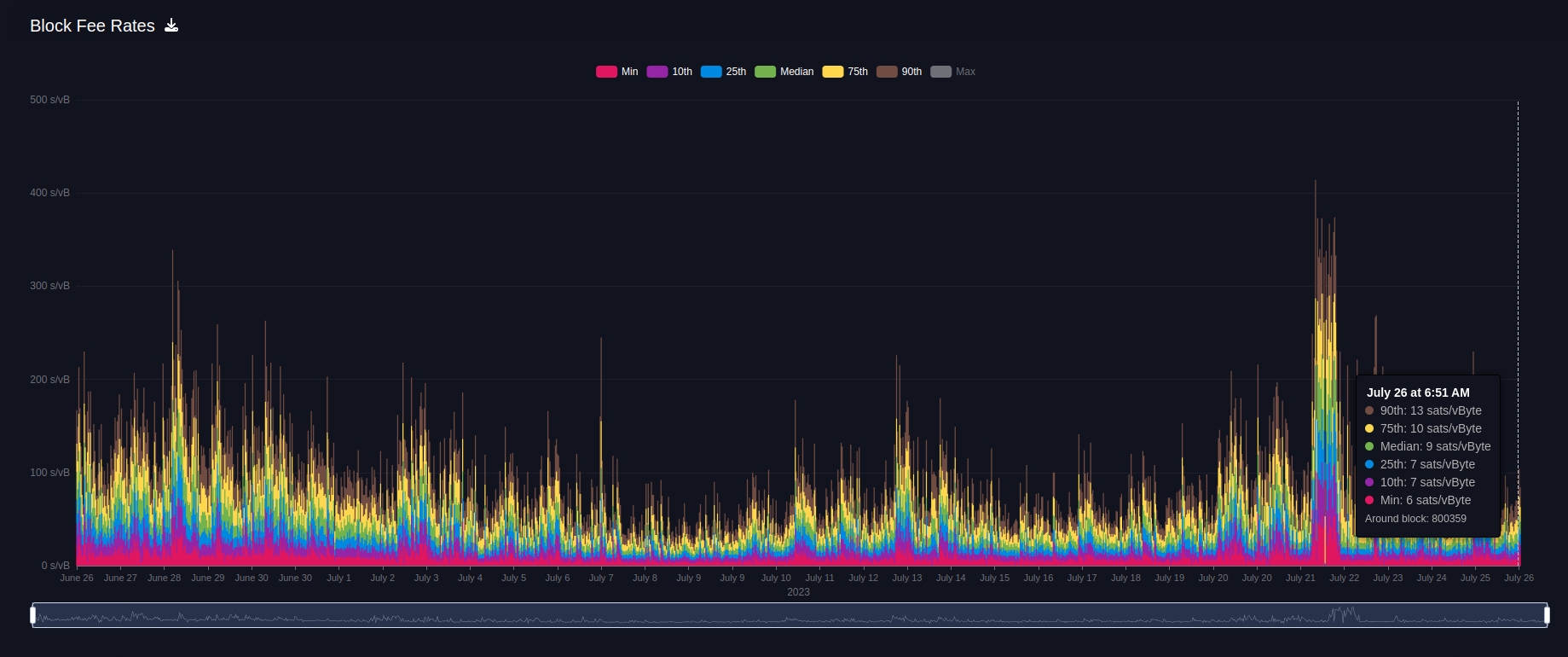 In the recent blocks, fees are ranging from 6 sats/vByte to 13 sats/vByte.
🤔
vBytes are how "heavy" a transaction is, or how much data on the blockchain that transaction will take up. At 6 sats/Vbyte a 200 vByte transaction would cost 1,200 sats in fees.
In Other News
TeraWulf and Bitfarms announce plans to expand their hashrate while Hut8 and USBTC are continuing with their merger.
Regulation
Kuwait banned Bitcoin payments, mining, and related activities - Coin Desk
House Republicans Push for New Crypto Rules After Ripple Decision - Bloomberg.
Arkansas senator seeking repeal of controversial new crypto mining law - KATV
Mining Ops
Other
---
Interested in owning your own bitcoin miner?
Hashbranch helps customers find quality bitcoin miner hosting companies
Tell 'em Rigly sent you
---
Thanks and Happy Bidding!
Team Rigly